Summer 2020 at Temple University Ambler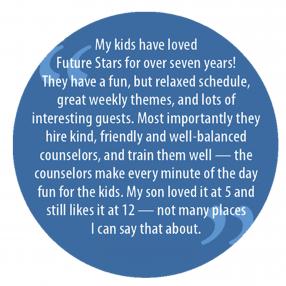 Who Are We?
Knowing the Future Stars story gives the full picture of how and why Future Stars serves families as well as we do. Our core values come from Cathy Rush, who started running summer camp to offer young people opportunities they never had before. As a single mother, Cathy needed to find a way to provide for her children and have the ability to parent her two sons. This leading value aids in our better understanding of how to serve working parents. Today's families face constant challenges. Future Stars Day Camp takes pride in serving the individual camper and family. Future Stars offers the greatest value, flexibility, staff-ratio, and positive environment of any comparable program. We invite you to find out more about Future Stars.
Traditional camp is offered to campers ages 4-13. Campers are grouped co-ed by grade level and participate is Arts, Sciences, Performing Arts, Swim Instruction, Sport & Game, and Technology daily.
Future Stars daily swim program provides individual attention for the non-swimmer as well as the advanced swimmer. In a caring and safe environment, Future Stars campers progress in skill level while mastering water adjustment skills, rotary breathing, arm movements and stroke refinement. Complete water safety is our goal as campers receive praise and confidence. Throughout the summer, campers develop at their own pace while our certified instructors emphasize the American Red Cross Standards.
Campers will try their hand in a wide variety of thematic crafts and projects every day. Campers create their own age-appropriate masterpieces with an assortment of media including clay, paper-mache, plaster of paris, acrylics, watercolors, and pastels. Future Stars Arts and Crafts program invites campers to freely express themselves in a fun and innovative way.
Hidden talents emerge as all campers discover their creative abilities with musical instruments, skits, creative movement, songs and dance. Campers work to develop their imagination and performance skills in a supportive and creative environment. Future Stars Performing Arts section of the day will build confidence, character, and creativity.
Sport and Game segments will include new activities that teach social skills, decision making and good sportsmanship. Each week campers will be on a journey to build confidence and experience the joy of activity and interaction.
Campers transform into young scientists as they enter our Future Stars science laboratory. Each scientist will discover more about our world through hands-on experiments involving electricity, magnetism,chemistry, and more. Our campers are sure to explore the world around us.
Campers will begin with the computer basics in a creative learning environment that inspires growth and achievement. Our multiple activities combine learning and fun.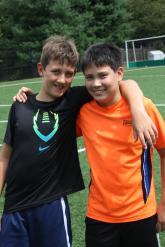 Why Choose Future Stars at Temple Ambler?
Daily Swim Instruction
Traditional Day Camp
State-of-the-art Facilities
5:1 Camper to Staff Ratio
Flexible Scheduling
3-day & 5-day Options
Experienced Adult Staff
Air Conditioned Spaces
Before & After Care Available
Full Day: 9 AM – 3 PM (morning drop-off from 8am-9am and afternoon pick-up 3pm-3:15pm)
Extended Time: 7 AM – 8 AM and 3 PM – 6 PM