The Good People in Your Neighborhood
We encourage our campers, parents, and staff to nominate someone who is doing good in their community. Award winners will receive a $50 gift card to a local restaurant of their choosing for their kindness.
The Future Stars Camp family has been blessed for over 50 years with so many great people, campers, staff, parents, and friends who continue to show us the good in this world. As we enter 2021, Future Stars Day Camps celebrates positivity through community service. We look forward to reading these incredible stories of those doing good in their neighborhood and shining light on the positive examples of those living amongst us.
No act of service or kindness is too small!
The Good People in Your Neighborhood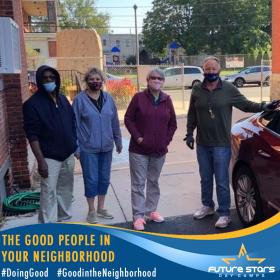 Carol is a staple in multiple Delaware County and Chester County neighborhoods. She is always volunteering at the Holy Cross Food Pantry and Anna's Place. Carol works effortlessly to supply these organizations with groceries and works to seek donations for them as well. She is the first to support local school fundraisers for children in her community and any other local charities seeking assistance in the community. Carol remains involved in her local church, and her and her children's alma-mater, Bonner and Prendie. Any committee that requests volunteers, you will always see Carols name front and center. Recently, Carol has dedicated her time at a local COVID-19 vaccination facility in Delaware County. She is a true inspiration and always looking to help others any way she can. Thank you, Carol, for your endless dedication to your community and helping those around you. We thank you and we appreciate you.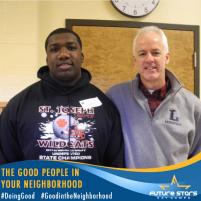 Our next award goes to Chris Cooney. Chris has been a part of the St. Aloysius (Bryn Mawr, PA) community for 30 years. For each of those years he has been a multi-sport coach and athletic director. He has introduced the love of teamwork to countless students and graduates across the mainline area. He spends numerous hours working with his students and players outside of typical school hours. He instills a sense of pride, drive, and confidence in the youth of today while teaching them important lessons about competition and life. In the photo Chris is on the right and is with a graduate who now plays division 1 football. Thank you, Chris, for your generosity in your community, it does not go unnoticed.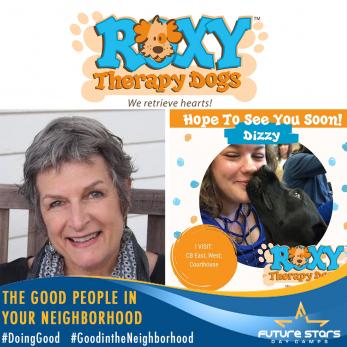 Our next award goes to Liza Fisher Norman. Liza is heavily involved with Roxy Therapy Dogs in Bucks County. This is a nonprofit organization that provides a support system to children in the community. Roxy Therapy Dogs are trained and certified therapy dogs that deliver self-esteem, relief from anxiety and fear, and a sense of well-being to children who are struggling with fluency, stress, pain, or anxiety. To a child who feels safe and relaxed, learning is accessible, and both physical and emotional healing are accelerated. Liza has been so extremely generous with her time and talents and truly has a special place in her heart for the children in our community. Liza has been with Roxy Therapy Dogs for many years, first as a volunteer team member with her certified therapy dog, Rollie, then she took on a Marketing role with the organization. She is extremely talented in all things marketing and equally humble. Liza has since added another therapy dog to her pack, Dizzy. Liza is always ready and willing to offer her expertise and talents wherever and whenever they are needed. Her generosity knows no bounds and her dedication to Roxy and in turn the children Roxy serves, is limitless. Thank you, Liza, for your kindness and generosity in the community. We and the many lives you have touched thank you. Future Stars will be donating to Roxy Therapy Dogs on Liza's behalf. Visit Roxy Therapy Dogs to learn more about what they do and how you can help.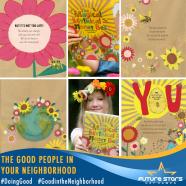 This next award goes to Annika (10) and her brother Ezra (6). Annika and Ezra have helped to cultivate flower fields on their family farm in memory of their great grandparents. The past two years, the kids helped their family gather bouquets from the farm and hide them around their town of Emmaus. All in the hopes of spreading joy to any strangers who stumble upon them. As time passed, Annika's love for flowers flourished and Ezra found a new passion for bees. Both of their interests lead to the creation of the children's book, The Magical Mythical Bees. Keep up the great work Annika and Ezra. We look forward to following your journey to "Save the Bees".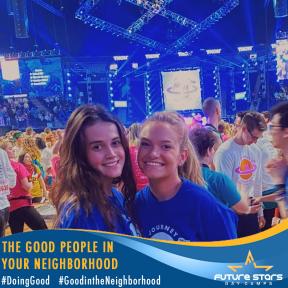 Our next award winner is, Tara McBlain. Tara is a Junior at Penn State University and a key member on our summer staff at Cabrini University. Tara has been extremely involved with THON the past 3 years while attending Penn State. She is a member on the Club Swimming team and serves as the Fundraising Chair for the team. Aside from working hard in the classroom and competing in swim meets, Tara dedicates much of her time all year long to THON. THON as many know, is Penn States student run philanthropy that raises money and awareness to help enhance the lives of children and families who have personally been impacted by childhood cancer. Before attending Penn State, Tara was heavily involved in the mini thon put on by Bonner & Prendie. This led to her strong desire to attend Penn State and continue her involvement in THON and helping the Four Diamond Families. Thank you, Tara, for all you have done and continue to do for THON and those around you. Your work is truly changing lives of the Four Diamond families for the better! We look forward to following your success this year and years to come. In place of a gift card, Future Stars will be donating to Tara's THON fundraising page.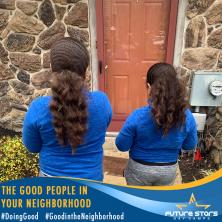 Our next award is given to brothers; Kaleb and Aaron Admasu. Kaleb (11) and Aaron (9) have exemplified the true meaning of kindness in their community of Chesterbrook. When Covid crippled our communities, Kaleb and Aaron brainstormed to come up with ways to help those around them. They learned of a local woman who was furloughed from her job and selling children's books in her spare time. The boys emptied their piggy banks to purchase 25 books. They then started a YouTube channel to read those books to children and share their hobbies in the hopes of spreading joy in a rather dark time (Click Here to view their YouTube channel). In addition to their YouTube channel, Kaleb and Aaron have dedicated the past 4+ years to growing out their hair to be donated to those fighting cancer. It is a pleasure to recognize these young, kind, and giving brothers. We look forward to following their kindness journey. It is truly contagious!
Our next award goes to a long time Future Stars parent Hamid Bassiri. Hamid and his family have been a part of our Future Stars community for nearly 15 years. He is a front-line hero working at Children's Hospital of Philadelphia. Hamid's experience caring for pediatric patients at CHOP extends far beyond the pandemic. His dedication to serve and care for those around him should be applauded. He was one of the first to identify and characterize the Kawasaki-like pediatric condition now called MIS-C. Hamid has dedicated his time and energy to fighting this pandemic and his tireless efforts demonstrate the good in our world. The resilience and care Hamid places in his work each day deserves our appreciation. We are so grateful to have the Bassiri's as members of the Future Stars family. We thank Hamid and all the front-line heroes for their commitment to serve those in need. Hamid will receive a gift card to Gryphon Coffee in Wayne.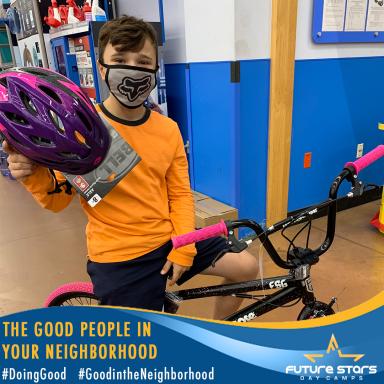 Our next award goes to Dom, an 11 year old who created Dom fixes bikes to help people repair their bikes during the pandemic. Dom was struggling to keep busy when the world shut down. He started fixing bikes for people in the community letting them pay any amount of money they wanted. The bike shops had a wait of 2-4 months, but Dom would do whatever it took to get someone's bike fixed. Sometimes they would have 10-13 bikes stacked up in the hallway or kitchen. Riding was his stress outlet. He worked so hard he bought himself his very own dream bike. In doing that, he also started to put money aside to buy bikes for kids at Christmas. He collected donations and used his own money to buy 6 high quality bikes, extended warranties and new helmets for 6 kids. He didn't want to get just any bike he wanted to get each kid a dream bike just like he had. The list included: A light yellow vintage style cruiser with a basket, a tricked out BMX, a pink bike with training wheels for a girl who has never had a bike of her own, a trendy mountain bike for a girl who was riding a borrowed bike from her grandmother, and 2 mountain bikes that were given to his school principle to give to any 2 kids in his school that he thought would want them.
Thank you, Dom, for your hard work and dedication helping those around you. It is truly an honor to recognize a young man such as yourself. Keep up the great work. Dom will receive a gift card to Trek Bicycle Valley Forge.When people couldn't find a bike for Christmas, Dom and his family and friends would drive around store to store looking for the 'what seemed impossible list' but every request was completed! Dom didn't care about the hardship or the circumstances. We never met any of the parents or kids. We did contact free delivery. On Christmas morning we thought about all of the kids that were so happy and that is all Dom wanted! Dom is hardworking, speaks freely about his passion of biking and being the 4th generation in this community he understands that it is his responsibility to give back. Many people trusted him and supported him and he really saw how Dom fixes bikes became a topic of conversation in the community. He has proved that one 11-year-old boy with a passion can change the world!
Thank you, Dom, for your hard work and dedication helping those around you. It is truly an honor to recognize a young man such as yourself. Keep up the great work. Dom will receive a gift card to Trek Bicycle Valley Forge.
This celebration of positivity begins with the first recipient of the "The Good People in Your Neighborhood."
Andre Clements
has been a member of the Future Stars family for nearly 20 years. Andre is a teacher, coach, and Air Force reservist. Andre embodies the spirit of service and dedication to others. During the pandemic, Andre volunteered to deliver meals to children in need. As a special education teacher, Andre goes above and beyond to serve children. Andre delivered a meaningful in-person experience for ESY students during the summer of 2020. Future Stars is proud to call Andre Clements the first "Good People in Your Neighborhood" award winner. Winners receive a $50 gift card to a local restaurant of their choosing. Andre chose
Ventura's Offshore Café in Northfield
. Thank you, Andre, for your service and for showing our community of children good people are in this world.