Cathy Rush began her career coaching at Immaculata College where she established herself as a pioneer in women's sports.
Under her guidance, Immaculata College won three consecutive National AIAW Championships (1972, 1973 & 1974), five Eastern AIAW Championships, and two National AIAW Championship Runner-Ups. Often referred to as the "John Wooden of Women's Basketball," Cathy Rush's tenure as a women's basketball head coach might have been short, but it had a huge and lasting impact. The only Cathy Rush appearance as a collegiate head coach lasted six short years, from 1972 until 1977. Still, during that brief stretch, Rush's team also made the Final Four every year, and her teams played in the national championship game in every year but one.
Coach Cathy Rush was the head women's basketball coach at Immaculata from 1970-1977. She led Immaculata to three consecutive AIAW national titles from 1972-1974. Overall, she guided the Mighty Macs to 6 consecutive final four appearances in her seven seasons with the college, attaining a 149-15 record. Rush was inducted into the Naismith Memorial Basketball Hall of Fame on April 7, 2008. She was inducted into the women's Basketball Hall of Fame in 2000 and the Philadelphia Sports Hall of Fame in 2005.
Some of Cathy's Accomplishments:
Brought tiny Immaculata College (under 500 students) into the National spotlight with five trips to the NAIAW Championship Game in six years, winning three back to back titles
Compiled an amazing career record of 149 wins and 15 losses – a 91% winning percentage
Coached and directed the 1975 U.S. Women's basketball team at the Pan American games, leading the team to a gold medal finish
2008 Hall of Fame Inductee – Naismith Memorial Basketball Hall of Fame
Member of the Women's Basketball Hall of Fame
One of the few woman inducted into the Pennsylvania Hall of Fame
One of only six "outsiders" inducted into the prestigious Philadelphia Big 5 Hall of Fame. Having neither played nor coached at a member institution, Cathy was recognized by the Big 5 for her contributions and continuous dedication to the game of women's basketball
Member of the U.S. Olympic Committee of Women's basketball
Written up in Newsweek as the "Al Maguire of Women's Basketball"
Received Special Achievement Awards from both the New Jersey and Philadelphia Sports Writers' Association
Recipient of Special Achievement Award from the Delaware County Athletes Hall of Fame
Presently, Cathy is actively involved in the following:
Future Stars Camps – Cathy is president of Future Stars. For over 35 years, Future Stars has been conducting basketball, field hockey, soccer, all sport, and traditional style camps for girls and boys
Cathy is a gifted public speaker offering a variety of topics to encourage and motivate young women and men alike. Cathy's profile at CathyRush.com gives more information on speaking events
Color Commentating – Cathy has been the color commentator for all of the major networks, including NBC, CBS, CBN, ESPN, PRISM and the Sport Channel
Cathy, a breast cancer survivor, is a spokesperson for the American Cancer Society.
The Mighty Macs , the major motion picture released in October 2011 about the Might Macs starring Carla Gugino as Cathy Rush with David Boreanaz, Marley Shelton & Ellen Burstyn. Cathy contributed to the screenplay and served as Executive Producer on the movie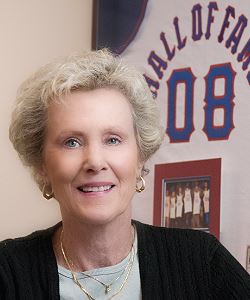 Masters in Education from West Chester University in 1972.
Bachelor of Science from West Chester University, 1968.
Graduate of Oakcrest High School, 1964.
Cathy Rush is the mother of 2 sons Ed Rush Jr. & Michael Rush.
Cathy has 7 grandchildren Faith, Jack, Thomas, Dean, Caroline, Julianna & JoJo.